I bored a channel through the frame backbone tube for the forward shock mounts. I managed to drill out both sides so that it's actually perpendicular and level. The cross tube is 5/8″ OD x 0.156 wall, so the ID is about 8mm. I drilled and tapped each end for M10x1.25 bolts, so the whole thing should be pretty damned stout.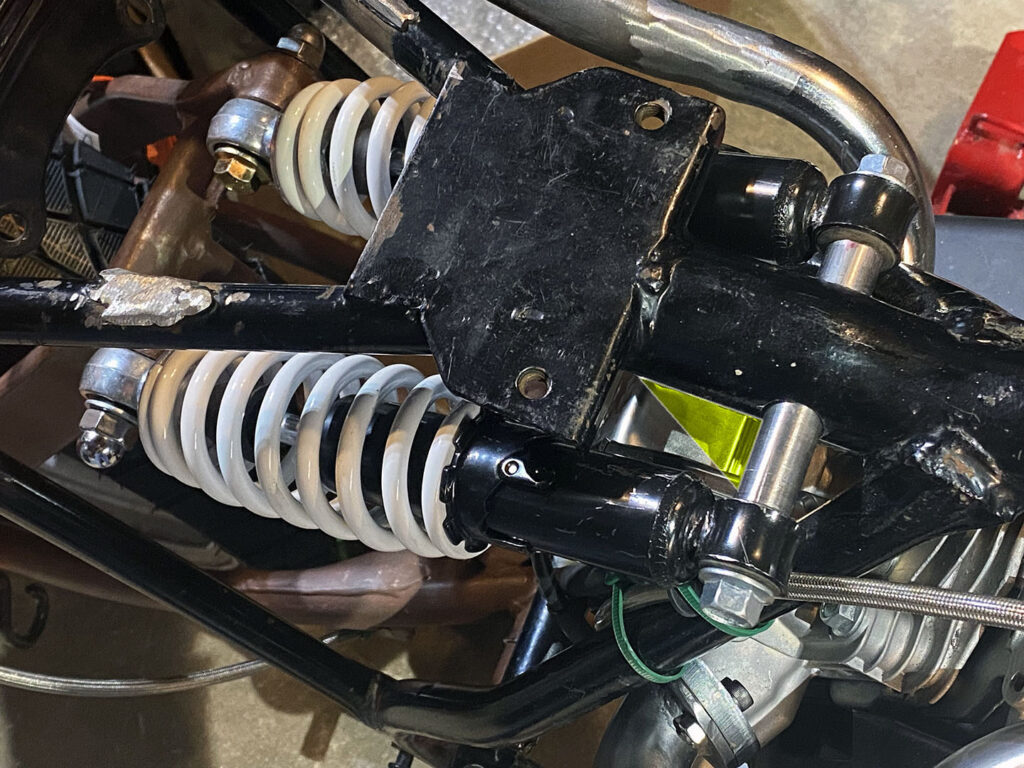 You'll notice that the shock bodies are noticeably offset. That's intentional. You may remember that I had to offset the swingarm to the left to align the chain and rear wheel. As a result, the right-hand shock would wouldn't clear the frame backbone when mounted inboard of the swingarm boss. On the other hand, the left shock body is inboard to keep it further from the heat of the exhaust pipe and keep the frame mount as short as possible. On the longer right side, I'll add a gusset behind the cross-tube (the ghosted yellow triangle in photo) just to beef up the frame connection a little. For now, I'll file the area down to bare metal and tack weld the crossbar in place. My welding guy can finish it up properly—along with all the other frame joints—once I'm done with the mockup build.
I positioned the shock mounts as far up and forward as practical in order to minimize the seat height. That helped get my seat height down about an inch from my previous calculations, to 33 inches. This pleases me.
With both ends of the shocks positively located, it has become a fully bolted-up rolling chassis for the first time. The cheap-o shocks were intended for the front A-arms on a youth four-wheeler. They're way underdamped, but my unscientific sit-and-bounce test says the spring rates seem about right. Rear wheel travel is limited to only a few inches, so it's either going to be rather firm or bottom out over big bumps.
It felt really good to take it off the stand, put my weight on it, and roll it around a bit. It's starting to feel less like a collection of parts and more like an actual motorcycle (albeit a pretty weird one).