It occurred to me that if I end up making a custom steering stem, I can use any ol' triple trees I want—including the spare set of forks that are already in my shop, and for which I have already have wheels, tires, and front brakes.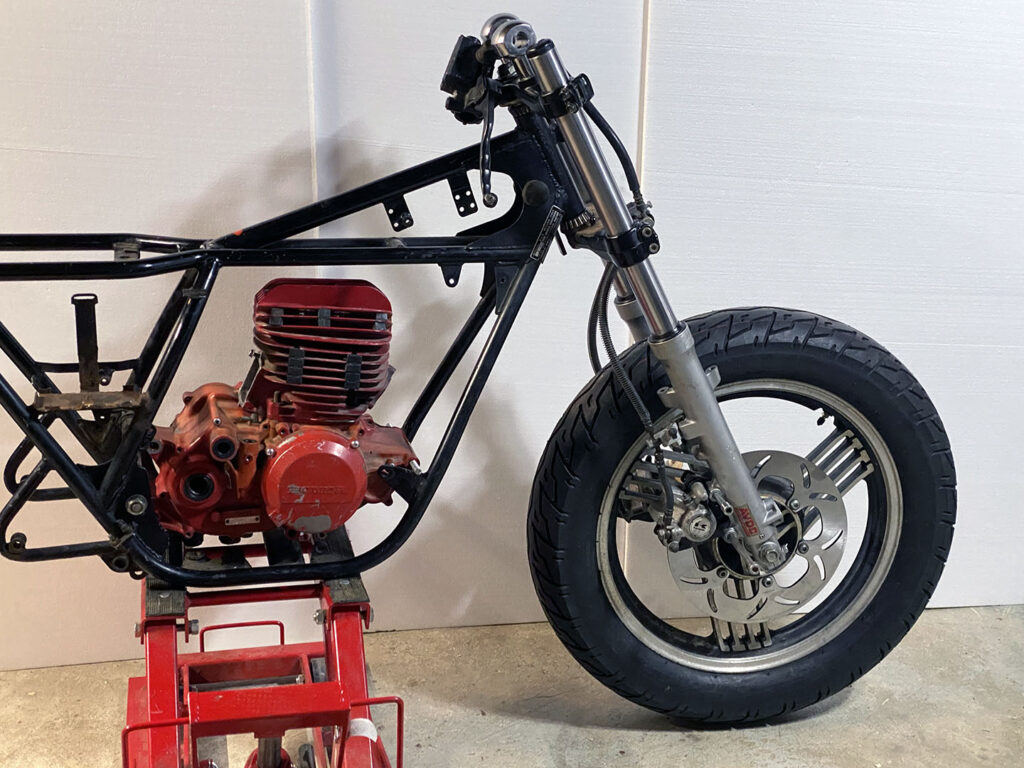 Regular followers will recall that I originally bought a pair of Yamaha Venture XVZ1200 front wheels and tires for The Bride, but the hub turned out to be too wide to use on that project. I then intended to repurpose them for the KTM-framed "Retroblaster" bobber — a project whose future is increasingly doubtful. Along the way, I bought a set of Venture steering clamps and forks from a 1986 ZX1000 Ninja, which match the Venture's 40mm tubes. I then stumbled on a complete set of Ninja 1000 calipers, lines, and master cylinder for a very good price. All I needed at that point was a brake disk that would bolt to the Yamaha wheel, but in a diameter suitable for the Ninja 1000 calipers (280mm). I won't keep you in suspense: I found what I needed in the rear brake disk on many of Yamaha's 1100–1700cc V-star cruisers. The disk is actually has a 1mm greater radius, but there's still plenty of clearance in the calipers. The particular disk in this photo is an aftermarket unit with symmetrical slots (unlike the original ones from Yamaha), so it will look appropriate mounted on both sides of the wheel. I haven't bought the second one yet; I wanted to verify that everything would fit first.
The other wheel fits the rear with a similar lack of drama. A 38-tooth sprocket for Honda XRs has the same bolt centers as the Venture's brake disks. To fit it directly to the wheel, I would have to put it in the lathe and remove a single millimeter from the inside diameter, but it might need to be spaced out a bit to match the ATC250R's sprocket offset. In that case, the spacer's inner and outer faces could compensate for the slight difference. If I want to get really creative, I have worked out a custom cush drive I could machine to fit the rear hub—if there ends up being enough wiggle room, and I decide I want to go through the effort. A 20–24 HP two-stroke single really doesn't need a cush drive, but air-cooled ATC250R transmission parts aren't growing on trees nowadays.
I'm frankly not sure I'm really feelin' the slightly cartoonish vibe these big balloon-y wheels give this bike. Given the size of the engine and chassis, the overall look is a bit too artsy-bobber-Hipster-Glide for my tastes. But I'll withhold judgement. Perhaps I'll warm up to the concept over time, because all these parts are on their way back to the parts shelves, while I redirect my attention back to The Bride and Bultakenstein.