It turns out that the 276 mm slotted rotor is what I need, and I have all the components for a complete GS250T/450/750T brake setup. All the models listed used these identical front brake components. I'm including it here for future reference.

The caliper, hose, and master cylinder I bought off Ebay arrived, and the components are generally as borked as I expected them to be from the photo. The caliper piston is a total write-off, as are all the rubber and plastic parts.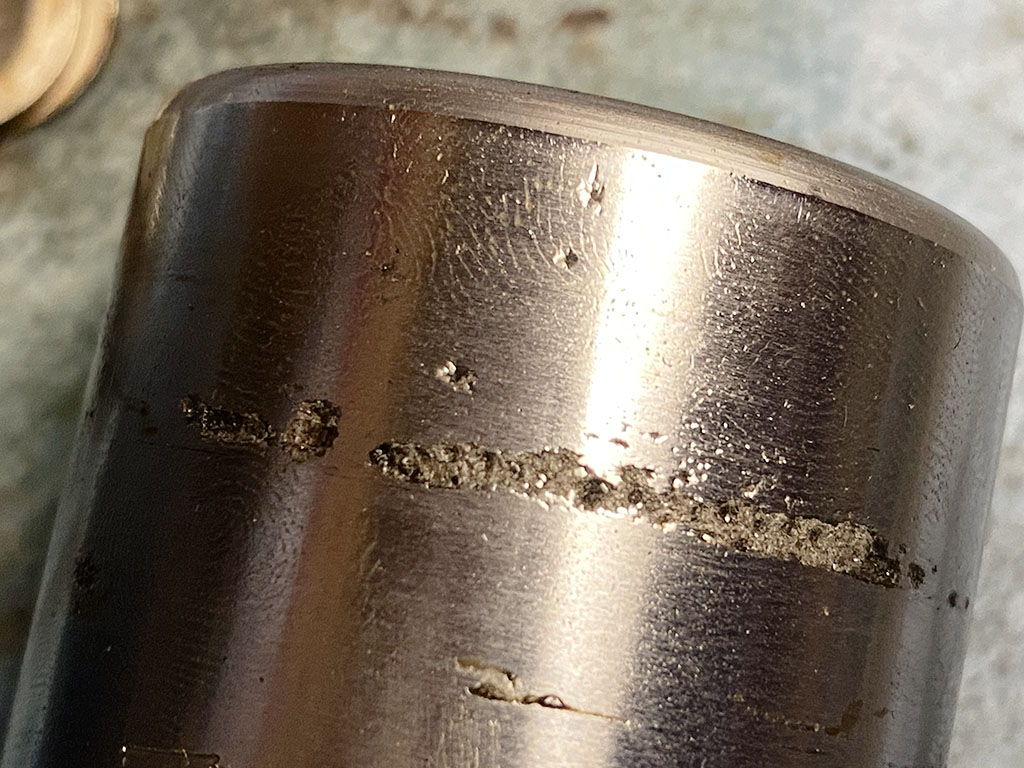 Fortunately, the alloy caliper body is still in good shape, with a bore that's smooth to the touch. A new OE piston, seal, and boot are on their way. I also included a new bleeder screw and cap, because the existing one is rusty and it was easier to just order it than try to clean up the old one, or source it elsewhere. A bit of time in the ultrasonic cleaner and perhaps a light touch of Scotch-Brite in the grooves should be all that's needed to bring it back to serviceable condition.
It's a good thing that this caliper is salvageable, because I discovered that the Aisin caliper I'd picked up previously won't work in this carrier; the bolt centers are the same, but the Tokico and Aisin have different diameter slide pins.
I don't have any photos, but I also disassembled the master cylinder. It wasn't as badly corroded, but wouldn't pump fluid. Suzuki no longer sells the rebuild kit, but I ordered an All Balls seal and spring kit, along with a new sight glass. Rebuilding will cost me significantly more than just buying a new, generic knockoff master cylinder (under $20 from any number of Ebay vendors). But 1) I have to believe the tolerances and metallurgy will be a bit better with the old OE Suzuki parts than an no-name Asian cheapie, and 2) I want the practice. I've rebuilt brake parts before, but not for several decades, and this project is all about gaining skills and experience, right?
As a backup, I also picked up this Aprilia master cylinder from a 2009 Dorsoduro, mostly because it was dirt cheap. It's the same 14 mm piston as the Suzuki, and it came off a (supposedly) functional bike.