I'm starting to get excited; I actually mocked up the swingarm position this morning, if only temporarily.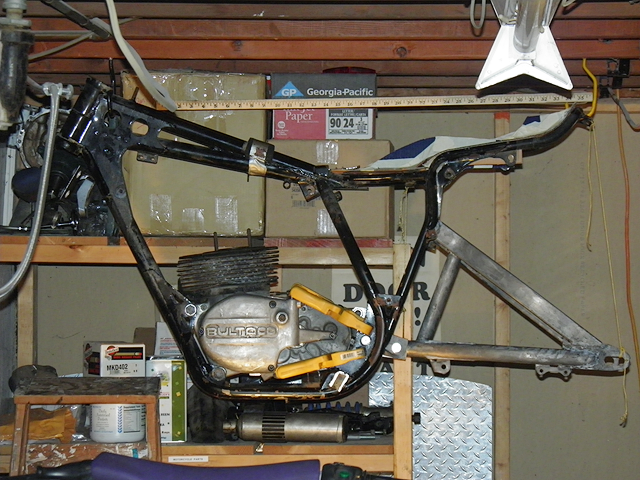 I decided to divorce the pivot bolt function from the frame cross-bolt and rear engine mount. In order for the the swingarm bolt to clear the lower frame cradle during insertion and removal, It will have to move back a little more than 2-1/2″, which will increase the wheelbase that amount. That might help the ride and stability a bit (who knows how this thing will handle!) as well as give me a little more room for a longer rear damper unit.
I bought a length of 0.156-wall 7/8″ DOM tubing and cut it to fit between the frame plates. Yea, that's a bit heavy, but with the swingarm cantilevered out that far, it'll potentially exert some serious torsional forces on that tube. Additionally, the tube ID conveniently matches the 14mm existing mounting holes in the frame side plates. I also bought 3/8″ flat stock to make the axle mounting plates, and they seem pretty stout. I am not going to actually use these mounting plates, however, because a kind soul took pity on me and has volunteered to make up a more accurate pair using proper machine tools.
The whole thing will have to be welded up, too. There's no way my little 110 MIG welder will get decent penetration on .375 plates (or even .156 tube) but I should be able to tack weld it together and then take it to a "real" welder to make it all solid. I haven't decided if the cross tube and drive-side plate should be welded to the frame. The whole assembly could conceivably just bolt in place.