The weather was warm enough to lay a tarp in the yard and start painting the front wheel. I could only do one side at a time, and the weather is now turning cold, so it might be a while before I can finish it. However, what I did do looks very good.
Surface prep consisted of just scrubbing the wheel with soapy water and a white Scotchbrite pad. I left the tire on the rim and masked it off with blue painter's tape, which is the exact wrong way to do it, but the result is as good as I dared hope. If the other side turns out similarly, I probably won't bother with additional coats or buffing it.
I popped the right-side hub cover on it just to get a visual impression, and I'm really pleased with my color choices. The Kawasaki Gentry Gray paint came from Custom Paints. It was the cheapest color-match option I found, and it turned out to be really good quality paint. It went on nicely and it's an acceptably close match to the factory finish on the Ninja 500 back wheel. With the differences in the shapes of the spokes between the two wheels, matching paint is vital to making the wheels look somewhat like a matched set. When they're mounted and 4-1/2 feet away from each other, they'll look great.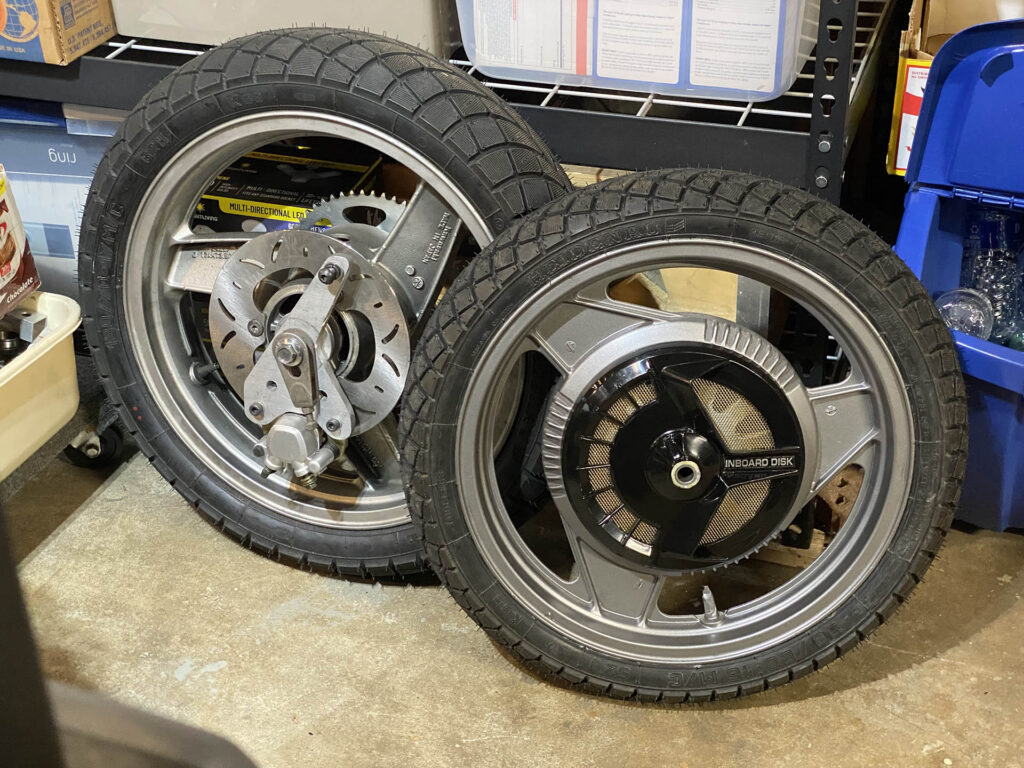 I also soaked the rusty front rotor in phosphoric acid. In this photo, it was just starting to react. I left it in for about 90 minutes. After a scrub and rub the braking surfaces looked good, but there was still some fluffy crud stuck inside the center passages. (Yes, inboard disk rotors were internally ventilated!)
I'm getting excited about being able to reassemble things, but the frame requires more work first.