I've been working on steering stops the last few days. Here's the adapter plate I came up with:
I shaped it out of 3/4″ thick section of 4″ dia. 6061 aluminum. The center was cut out with a 1-9/16″ hole saw and the outside was shaped with a hack saw and file.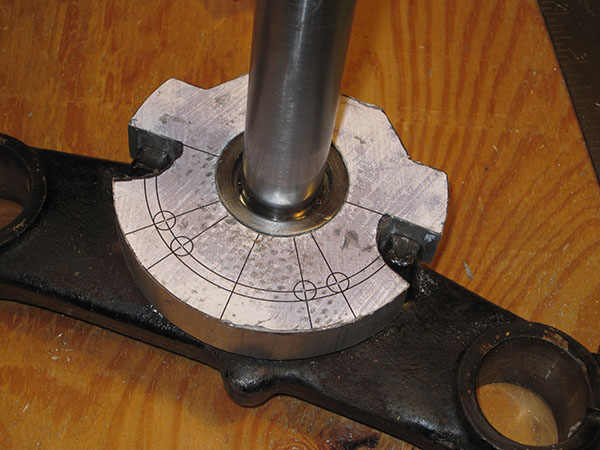 The center hole is a perfect slip fit onto the steel spacer I'd had made for the steering stem; I can't believe it worked out so well. I selected the closest hole saw size, but I didn't have much control over the exact tolerance. I don't know what I'd have done if it turned out to be a sloppy fit.
I carefully filed down the surfaces that face the steering stops on the triple clamp for a snug fit. There's no (perceptible) rotational free play around the steering stem axis.
As installed, the top surface of the adapter is about 1mm lower than the inner spacer, so that all the bearing load is still transmitted to the steel in the center, not to the aluminum around it.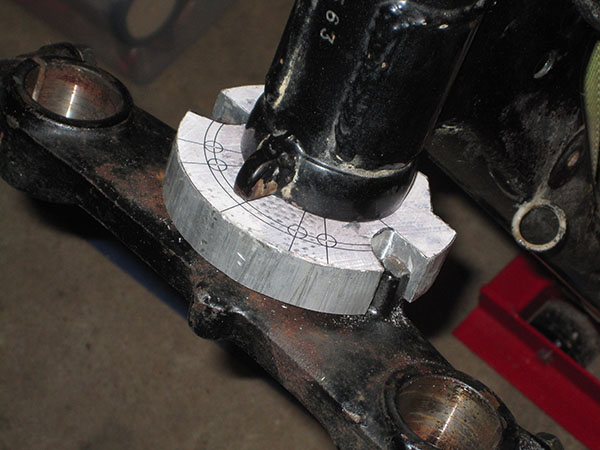 Above you can see the setup test-fitted to the frame. As you can tell from the template marks, I plan to drill and tap holes in the front for socket-head screws that will contact the original Bultaco limiting tab in the center of the steering head. This design gives me the option of drilling two or three sets of holes, so I can vary the steering lock angle after assembly. However, I still want to get the whole chassis assembled before drilling, so I can double-check exactly where the stops should be placed.
At over half a pound, this is a somewhat kludgy solution to my problem. However, my welding skills are not good enough for me to trust my life to, and this design is definitely robust and safe. I want to stress again that this project is not about building an awesome, gorgeous, world-beating bike: it's about learning shop skills and gaining experience by inventing solutions that I can effectively and affordably implement on my own. I think I can eventually swiss-cheese this a little bit and get the weight down slightly, but since the whole bike is made up of some pretty hefty components for what it is, it won't make a huge difference anyway.