I'm still slogging through wiring up The Bride's electrical equipment. I know a lot of custom bike builders especially dread electrical work, but it's really not that bad. It's just time-consuming and requires attention to detail. I've previously created wiring harnesses from scratch, and my number-one rule is to start with a complete, totally accurate, plainly readable wiring diagram. This time, lulled into complacency by the engine's simple ignition system, I disregarded that rule and started out with just a partial diagram. That smart move cost me a smoked turn signal flasher before I relented, backed up, and sat down to hammer out a comprehensive diagram.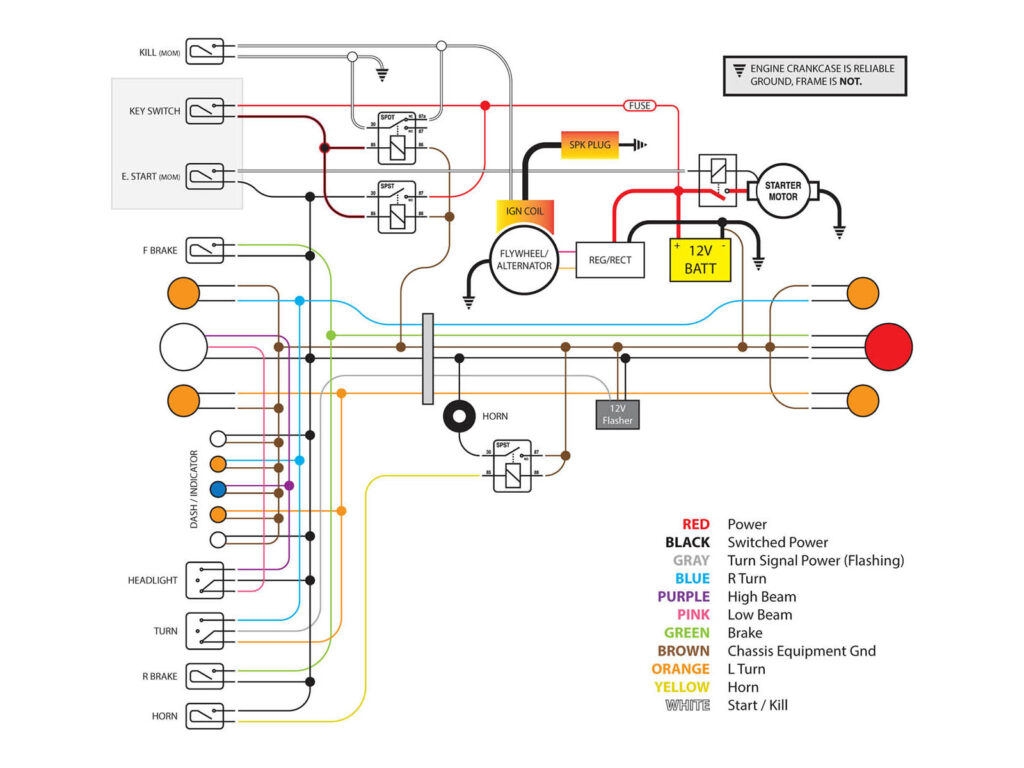 Creating this diagram should force you to think through logic of every circuit, as well as the interrelationships between them. Now, it doesn't have to be laid out on a computer like this, but a half-assed pencil drawing with haphazardly laid out wire routes and scribbled color names isn't going to cut it. When you're wrangling a rat's nest of wiring and Medusa-headed clusters of terminals, you'll want something instantly decipherable, concise, and consistent.
My drawing still isn't totally accurate, since the wire leads from the handlebar switches do not match my functional scheme, but that's a minor issue. I might update this at some point. Meanwhile, I'm busy figuring out how and where all the various bits and pieces can mount to the frame, along with a lot of methodical crimping and heat-shrinking.