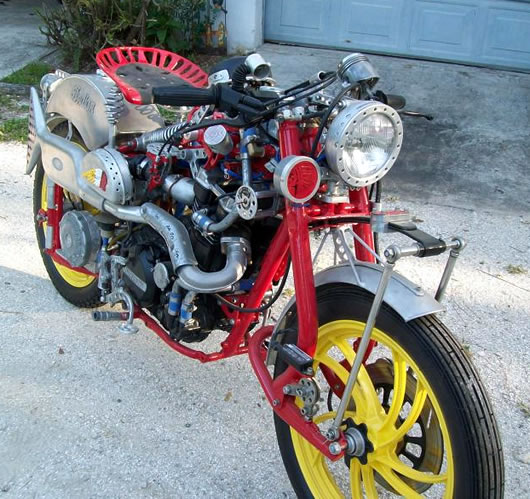 The Bride is an odd fish, but idea of building a bike out of whatever parts one has around is not that unusual. Nor is the concept of letting a bike's configuration evolve during the fabrication process all that unique.
I happened to find this 2009 article on Paul Crowe's The Kneeslider website. A fella by the name of Dr. Robert Harms built a Bride-like creation out of his spare cache of motorcycle components. According to the builder, "My major parts source is probably my lifetime stash, augmented by eBay," and, "This bike was the least planned in a series of unplanned bikes…. When I began, I had a vague idea of a ['49 Indian] Scout with the KLR [engine] and the DKW front end. It progressed from that point in a 10 month series of twists and turns."
I would like to think that The Bride will be at least as usable and perhaps less goofy in appearance, if only just. To the doctor's credit, his is a fully functional, rideable motorcycle — something that cannot be said of the Bride yet, and is frankly not a "gimmie" at this point.