I have no idea what what this NOS side stand originally fit. I don't even recall under what circumstances it came into my possession. Even though I could bolt it to the frame, it clearly isn't going to work like this.
Taking the most direct tack, I cut it in two with a hacksaw and then chucked each half in the lathe, turning the ends down to fit the ID of a steel tube I had lying around. I enlarged the hole in the frame to 12mm, so I could fit a proper shoulder bolt for the pivot.
Ahh, yes. This will work much better.
I originally planned to weld it, but I wanted to be able to adjust the length if necessary. I briefly considered threading the ends, but that would complicate orienting the foot properly. So, I simply made both ends an easy press fit, counter-drilled each end, and cut some M6 x 1.25 threads. I probably could have used setscrews for a more attractive look, but I had the button-head hex screws, and with a lock washer under them it's a nice, secure assembly.
Don't worry, it looks just as ugly in the up position.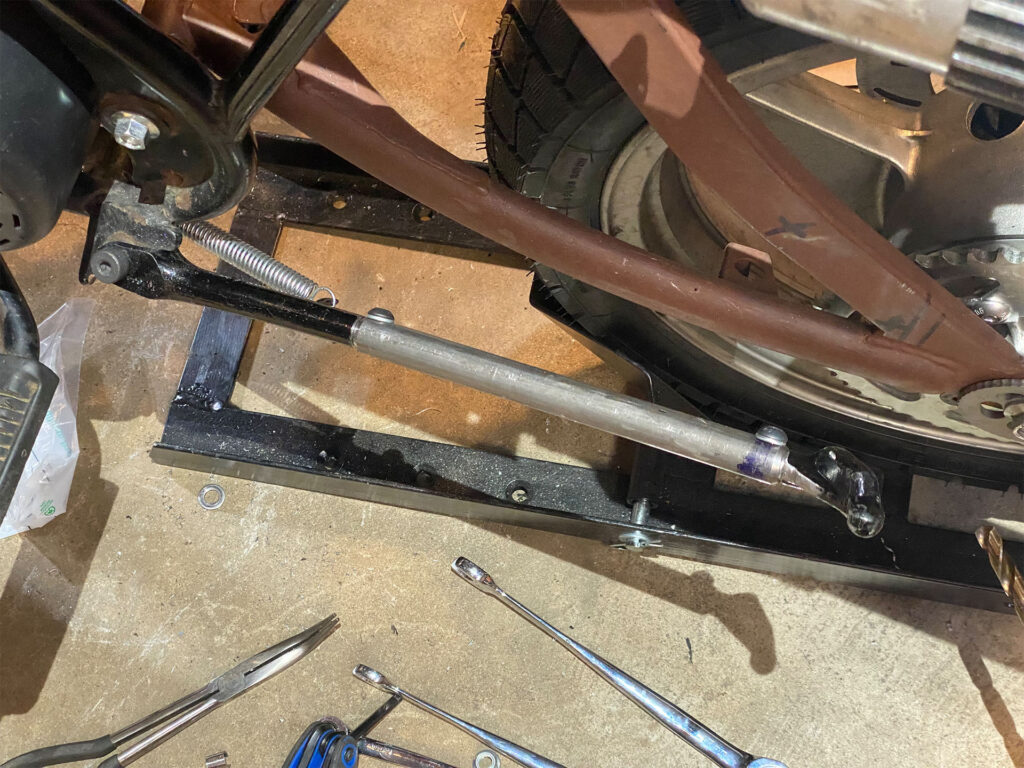 Regardless of how unsightly it is, the bike stands up on its own now, so that's a win!
[POSTSCRIPT: As it turns out, that side stand is from an early 2000s Honda GL1800 Gold Wing — a bike I've never owned or worked on, and which came out long after I last worked behind a parts counter. How I had this is totally beyond me.]