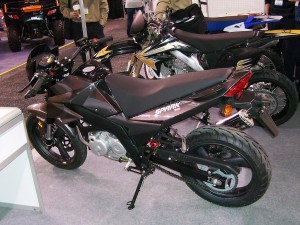 Click image for larger view.
EDITOR'S NOTE: While this blog's focus is intended to be on production motorcycles, I had a chance to check out this prototype at the 2009 Motorcycle Dealer Expo in Indianapolis last March. I later learned that Roketa intends to distribute the Spark 500 stateside once production commences. I thought it would be fun to include.
http://www.roketa.com/product/2628/0/48426.shtml



Click image for larger view
---
Asiawing Spark 500 (Prototype, circa 2009)
Performance
A wild guess; I don't really know. Supposedly has 'Cagiva technology,' whatever that means. Graded on a curve because it's a single.
Handling
I love riding narrow, light single-cylinder bikes. This one has a nice perimeter frame that looks stiffer than many, but cheap suspension components guarantee a letdown. Let's call it 'not exceptional' ...at best.
Looks
Surprisingly attractive bodywork, nice looking engine, but the headlight cowl is wonky, exhaust is strange and fit and finish are dodgy.
Reliability
Asiawing is not only Chinese, but 2nd-tier Chinese. 'Nuff said.
Practicality
Theoretically real-world friendly, gets marked down for non-existent dealer support, and the fact that it currently doesn't exist in production form.
Desirability
Nice body shape and proof that Chinese manufacturers are tackling larger, less toy-like bikes; beyond that totally forgettable.
Overall
I actually like the overall design. If it was more refined and from a major player, it would be a great bike worth serious consideration. As it is? Forget it!