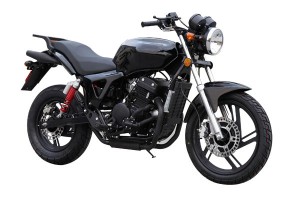 Click image for larger view.
---
2008-2010 Johnny Pag FX-3
Performance
A DOHC, liquid-cooled, 300cc twin in a naked standard is just the sort of thing I've been clamoring for. This one's fairly lively, but pretty bad, otherwise. For the record, I'm not prejudiced against Pag's 300cc twin because it's sourced from China. I am slamming it because it's harsh, temperamental, and vibrates excessively, regardless of what country it originates from.
Handling
It's a nice, light, nimble package that is let down by substandard suspension and brake components.
Looks
When I first saw the FX-3 from across the hall at the annual Dealernews Expo, I was impressed and interested. Up close, however, it looked crude, sloppily-made and quite cobby.
Reliability
Pags are rather notorious for their build quality, which varies widely from just okay to downright horrible.
Practicality
It has nice ergos and would be a fun in-town runner, but it performs too poorly to be fun to ride in any situation.
Desirability
Looking at the design, it could have been (and should've been) desirable, but the reality is that it's just too crappy to want.
Overall
You could probably build a bike nearly as good in your garage with a 110-volt MIG welder, rattle-can paint and hand tools.