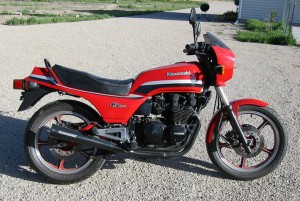 Click image for larger view.
Today's Snap Judgement Guest Host is longtime friend and Rocky Mountain riding legend Rusty Spokes, who shares his view on a model near and dear to his heart.
---
Kawasaki GPz550 ('81 KZ550D/'82-'83 KZ550H/'84-'85 ZX550A)
Performance
When the GPz 550 came out it was THE performance bike to have. By today's standards the GPz 550 is no rocket ship but it will still out run almost any car and a fair share of newer bikes too.
Handling
The best handling bike of its time still provides a fun and competent ride, as long as you respect the almost 30 year old chassis. It will leave even the best handling cruisers far behind on a twisty road. And twisty roads are what motorcycling is really all about, right?
Looks
Early GPz's are what I see in my mind's eye when somebody says the word motorcycle. The low bars and bikini faring are direct decedents of the AMA superbike series. Classic lines and an engine out in the open for everyone to enjoy make these bikes the most handsome of any era. To my eyes at least.
Reliability
Air cooled four cylinder Kawasaki's are in general as reliable as a hammer, the 550s were no exception. The chassis were also durable and with a minimum amount of maintenance these bikes would last forever. Unfortunately many were raced and crashed into unrecognizable piles of twisted metal, while others suffered a slow death at the hands of inexperienced owners. (The customary deduction for a bike this age has been taken. – Ed.)
Practicality
The low bars, for its time, and a flat seat make these bikes extremely comfortable for all day rides. The nimble chassis and eager engines make for a great around town bike. A superb do-it-all bike.
Desirability
The bike that started the factory sportbike movement, timeless looks, and a storied past. What more could you want?
Overall
I'm a tad smitten with these bikes as you can tell. Buy them up and keep them on the road where they can be appreciated.