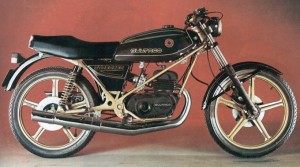 Click image for larger view.
---
IT'S 2-STROKE WEEK!
Featuring a different two-stroke street bike each day.
---
1978 Bultaco 125 Streaker
Performance
Its only a 125, but it still can kick a bunch of larger scooters to the curb. It has a great kick when it comes on the pipe. Expect to maybe edge over 70 MPH flat-out, laying on the tank, if you have a trim physique.
Handling
In spite of its skinny tires, skinny legs and skinny frame and swingarm, the Streaker was designed to be a serious apex strafer. (Legend has it that the frame was designed with the assistance of Aérospatiale engineers using early stress-modeling software.) A smooth operator can hustle through turns at speeds that are genuinely surprising, not just 'okay for a little bike,' but it takes a special kind of rider to get the most out of a Streaker. It weighs just a few loaves of Polvorón over 200 lbs., so the rider may weigh more than the bike. And with only 10 HP on tap, smoothness, body position, and maintaining momentum are everything.
Looks
I had to give this a '5' for my personal safety. This is one of the first bikes I fell in love with as a 17-year-old, and that love is now hardwired into my neural pathways; if I was to criticize the Streaker's looks even a little, my head might explode.
Reliability
Bultacos are finicky, flawed, crude and maintenance intensive. They are also incredibly durable, simple and robust. You can just keep rebuilding them over and over. The bad news is that you probably will.
Practicality
A nearly unobtainable, ten horsepower cafe racer from a tiny European manufacturer that's been out of business for three decades. Practicality doesn't even enter the equation.
Desirability
One of the last Bultaco street bikes and one of very few with cast wheels and disc brakes. Less than a hundred of these were imported to the U.S. They don't come much more unique than this. They were recognized as collectable at the time; a good portion of them were tucked away for posterity without ever being started up, so its still possible to buy a zero-mile streaker...for a five-figure price. Some narrow-minded people will never understand the attraction of a 125cc café racer; those people haven't ridden a Streaker.
Overall
Someday, my lovely, I will have you. It's a sign of madness, I know, but... someday...