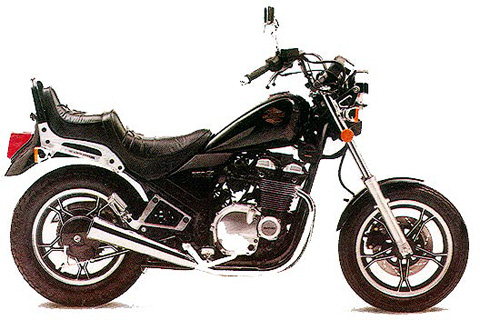 ---
1983-86 Suzuki GS550L
Performance
The second generation GS550 mill was a pretty okay sportbike motor, but it was gutless in the lower half of the rev range, which made it a very strange choice for a cruiser. One-size-fits-all engine choices such as this were one more nail in the coffin of the UJM-based inline four cruiser.
Handling
The Full Floater monoshock out back was overkill for a cruiser, but this was before anybody at Suzuki realized it. Ground clearance was also pretty good. Unfortunately the 16-inch front wheel and long forks ruined the party by making steering overly twitchy and cornering slightly vague. In 1986 Suzuki switched back to a typical 19-inch front wheel for its last year of production.
Looks
I am of two minds about the Full Floater L. It traded chrome trim and the fancy two-tone paint typical of cruisers for expanses of unadorned monochrome bodywork, understated paint and decals, cast wheels and lots of subdued brushed metal. Add the sportbike-ish hidden rear suspension and tiny front wheel to the visual mix and the result is both admirably daring and slightly cringe-worthy. I could just as easily give it a one or a four.
Reliability
A heck of a solid bike, but at nearly three decades old, remaining examples deserve sizable deductions for time and wear.
Practicality
At the time, the GS550L was a strange creature: a sit-up-and-beg cruiser that wanted to be ridden like a racebike, but without really returning a very sporty experience. It makes even less sense today.
Desirability
I can't decide if its cool or just strange, but it is one of those bikes that comes to mind often. In practice, it wouldn't do anything lots of other bikes do better.
Overall
It was a creative, boldly unique experiment that really didn't work in the marketplace or on the road. but it sure is interesting.