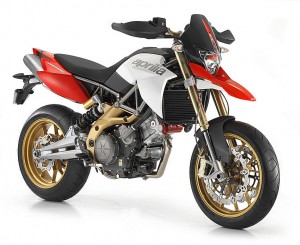 Click image for larger view.
---
2008-2010 Aprilia SVM750 Dorsoduro
Performance
Not the most pure speed of its size or type, but crisp, computerized throttle response with 3 mapping profiles, torque a-plenty, inherent 90-degree smoothness — everything a V-twin should be.
Handling
Light and toss-able, with stiff frame, forks and swingarm; quality dampers, great brakes with available ABS, and gobs of ground clearance. Nearly as good as many narrow-spectrum race-replicas.
Looks
Angular in the contemporary style, without looking like an insect or or a transforming robot. Better than its Shiver stablemate. ABS version has unfortunate tumor on front of engine. 2008's red/white/black color scheme (shown) remains my favorite.
Reliability
Quality construction, but horror stories abound about warranty work and parts availability. Fly-by-wire throttle may worry luddites.
Practicality
More useful than a race replica on nearly all roads, and more useful than a tourer on many of the ones we ride most often. The only real drawback is the narrow seat and upright sitting position, which limit tolerable highway miles. Price is reasonable for an exotic European brand.
Desirability
High water mark in supermotard evolution that fulfills the fantasies of Italiophiles, even if they don't do all their riding on canyon twisties or road courses.
Overall
Very want-able. Might actually make one my own if I could stop fretting about the weak support a small manufacturer provides.