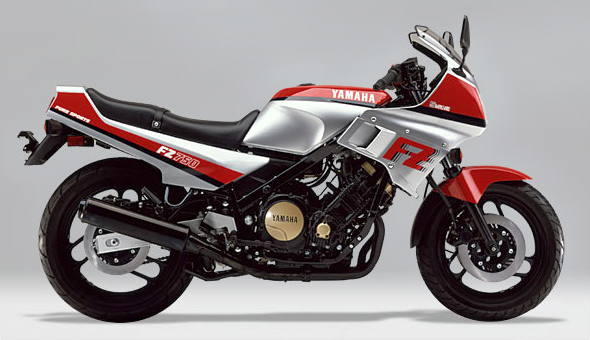 ---
1985-1991 Yamaha FZ750
Performance
The FZ750's 105 peak horsepower was world-class for a 750 in 1985, and the motor is still thoroughly enjoyable today. There are many faster mills now, but the flexibility, smoothness and massive rid-range of the 5-valve Genesis design help it remain a winner. The four carbs work as well as any mechanical mixers ever have, and can nearly approach the precise, immediate response of F.I.—when they are properly maintained, jetted and synchronized, of course.
Handling
Yamaha claimed that the steeply canted cylinders provided a distinct handling advantage. This may have been true in theory, but in reality the bike's handling was fairly ordinary. The skinny-looking steel spars made the perimeter frame reasonably stiff for the time but not especially light. Fortunately, the FZ's design engineers chose high-speed stability over aggressive turning, so the FZ remains a secure, stable and enjoyable (if slightly harsh riding) sport-touring bike many years after it stopped being competitive on a racetrack. The brakes were never a match for the engine's power, and that's even more noticeable today.
Looks
The original 1985 version was one of the last bikes to eschew a cookie-cutter, unimaginative full fairing in favor of delightful gold-and-black accents on one of modern sport riding's truly beautiful engines. The extra-wide rectangular headlight is the evolutionary link between earlier bikes and the more recent multi-headlight look. Later versions were less strikingly original, with twin round headlights, tacky side strakes, cartoonish graphics and clunky-looking fairing lowers that hid the remarkable-looking engine.
Reliability
The FZ motor was absolutely bulletproof new, even when revved high and ridden hard. Today, the only deduction is due to age. Finding a nice used one can be difficult. A history of proper maintenance is vastly more important than total mileage.
Practicality
The comparatively unhurried handling might not be much of an asset in the twisties nowadays, but the FZ750 is relaxed and stable enough to fill the same niche as a modern 'all-arounder.' The riding position is remarkably roomy and comfortable for a bike with its supersports lineage, and the drivetrain is happy to toddle around town or spend all day on the Interstate without complaint. The seat is the only sore spot—literally. Consider an aftermarket saddle mandatory for long rides.
Desirability
The technological panache of 5 valves per cylinder and the memory of Eddie Lawson's winning ways aboard his FZ750 superbike add an emotional allure to what is basically a very livable, well-behaved (and, for the debut model, very pretty) sporty standard.
Overall
The FZ750 was mostly famous for its twenty tiny valves. The 5-valve arrangement may seem like an '80s fad in retrospect, but the FZ750's entire package has aged very well.