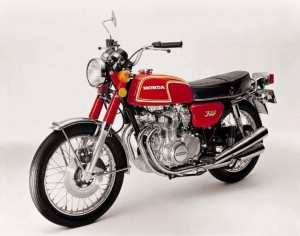 Click image for larger view.
---
1972–74 Honda CB350F
Performance
34 HP at the crank is borderline pathetic for a motor this complex and heavy. It has a fairly wide spread to that power, but not as much torque as a good midsized twin. But it gets three points from me anyway because it's just so fun to run. It revs easily, is smooth even by today's standards, and sounds wonderful, with all sorts of delightful ticking and tapping.
Handling
From tires to suspension to frame, this is clearly not a modern motorcycle. But as vintage bikes go, this one is quite rideable. It is compact enough to feel flickable, yet its 400-pound weight feels remarkably stable at speed...as long as you treat it as the classic old bike it is, and don't push the envelope.
Looks
Many people prefer the sleek looks of the later, cult-favorite CB400F. To me, the 350 Four's less sporty shrouded fork tubes, pinstriped tank and four separate exhausts are more 'old-timey' in all the right ways.
Reliability
They were more expensive than nearly any other small bike of their era, and that extra quality shows. For their age, many 350 Fours have held up remarkably well. The two failure points are leaking head gaskets and the unobtainable stock exhaust, which rusted through quickly. Fortunately the Mac 4:1 pipe is still available, which creates a different but equally attractive look, plus a wonderful (but still socially responsible) exhaust note.
Practicality
Despite being small and maneuverable, the 350 Four is highway-capable. The flat seat is remarkably comfortable and contributes to the roomy ergonomics.
Desirability
There was no rational reason for Honda to build a 350cc four-cylinder bike. Thank heaven that Honda didn't act rationally. I had one and I miss it dearly.
Overall
Think of it as a historical museum piece that is still a joy to ride, not too outdated to use day-to-day, and not too difficult to buy and keep.