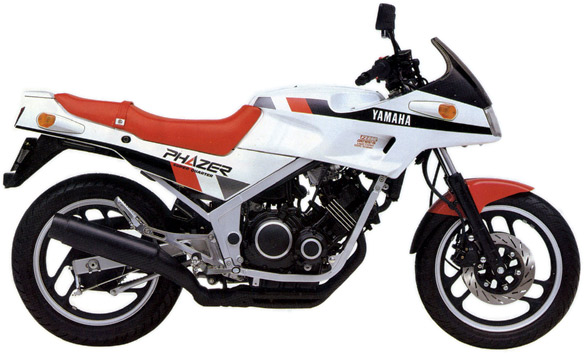 NOTE: The Phazer 250 was never imported to the U.S.
---
1985–86 Yamaha Phazer 250
Performance
The original Type I Phazer is perhaps the most difficult motor to assess out of all that I have rated on this site. The 16,000 RPM redline was crazy wild at the time, the exhaust note was intoxicating, and the bike made a darn-good-for-a-250 50 HP at its max. Unfortunately, the only way to get that power to the ground was to rev it to 8 grand and slip the clutch mercilessly. Below that, speed wasn't just slow to build; the engine suffered from a noticeable drop in power around 7 grand that was nearly impossible to get through in a timely manner without a bit of clutch slippage. The next year, Yamaha introduced the Type II, with a more linear power delivery. That made the bike a bit more practical but a lot less exciting, and that magic exhaust sound became more muted and bland.
Handling
The 'Feather' combined light weight and quality suspension components in a way no American-bound bike ever has. For the mid-'80s, handling was spectacular. 'King' Kenny Roberts declared it the best-handling street bike he'd ridden. The Type II came with a rear disc brake.
Looks
There have been other high-revving 250cc fours, but the Phazer's sleek, nicely integrated bodywork and the unique 45-degree cant of the 'Genesis' cylinders gave it a uniquely attractive look that none of the others (including Yamaha's fully-faired FZR250 successor) could match. A 'Limited Edition' model added an awkward chin fairing under the engine that only served to hide those four header pipes and detract from the overall appearance. I personally am not a big fan of the small-diameter, square-tube cradle frames popular at the time, but that's a minor quibble.
Reliability
Most of the deduction is for age, not for the obscene speeds at which the engine spins.
Practicality
The Phazer is about making magic, not being practical. It's an expensive, rare, intensive way to go not too incredibly fast. But when Yamaha tried to make it more practical, they lost some of what made riders love the Feather so dearly. (Score includes the usual 2-point deduction I give to all foreign-market bikes.)
Desirability
If I could afford to have one of these strictly to appreciate and savor, not to rely on for useful riding tasks, I would.
Overall
World-class, high-tech 250cc fours of this caliber have little reason to exist without an artificial displacement cap, such as that provided by Japanese licensing laws. Now that the hurdles to riding larger displacement bikes in Japan have been decreased, we are unlikely to ever see this sort of extreme featherweight again. But I am so glad they exist.