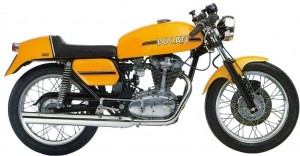 Click image for larger view.
---
1973–74 Ducati 350 Mk 3 Desmo
Performance
The little Desmo was really fast for the late '60s, but by the mid '70s, when the final version appeared, they had largely been eclipsed by Japanese motors (both two-stroke and four) which added more pleasant clutches and transmission designs to the mix.
Handling
Never bad, and the final redesign got stout, upgraded forks and a disc front brake helped keep pace with the competition. But frankly the handling of Ducatis has evolved into an unrealistic myth over time. They weren't all that great and are throughly unremarkable by today's standards.
Looks
The chassis parts were nicely proportioned, but ordinary looking; the engine is perhaps one of the most gorgeous ever. My score averages the two.
Reliability
They were high-grade engines, but they vibrated badly (shaking stuff loose on nearly every ride), electrics were a nightmare, and some of the chassis parts were uncharacteristically crude and cheap.
Practicality
Useful for sporty blasts on your day off, and not much else.
Desirability
Few 350cc single-cylinder bikes have the street cred to give butterflies to jaded riders accustomed to liter-plus road monsters. The Mk 3 D does.
Overall
Desmo Duc singles have always been thoroughbred toys for enthusiasts; that becomes more and more true with each passing year.