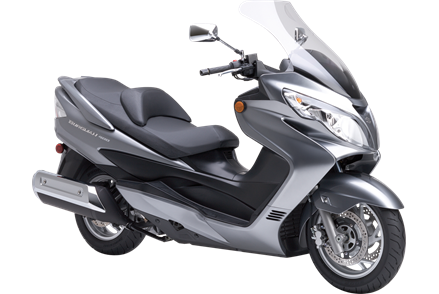 ---
IT'S SCOOTER WEEK!
Featuring a different motor scooter each day.
---
2003–2009 Suzuki Burgman 400
Performance
While it won't leave a JDM 400cc four-cylinder sportbike in its dust, the wee Burgman's EFI-equipped motor cruises at highway speeds fairly effortlessly and can keep up with most cruiser motorcycles without being tortured.
Handling
As scooters go, it's better than most, but it doesn't approach that of the typical motorcycle. Bumps can upset the chassis a bit more easily than you'd expect. Brakes are surprisingly good.
Looks
It's admirably clean, but pretty ordinary and unremarkable overall.
Reliability
It is both low maintenance and durable. They've been in production long enough to have no glaring faults, and the bodywork is surprisingly rugged.
Practicality
It doesn't have ground-ripping power, but it can do any utilitarian type of riding, from commuting to touring, fairly well. Fuel mileage is good, wheelbase is short enough to be easily maneuvered, weather protection is awesome, and the purchase price is significantly lower than the current crop of 500cc-650cc scooters.
Desirability
The Burgman is a very smart choice, no question. But it doesn't exactly pluck our heartstrings.
Overall
The Burgman 400 is like the brainy girl with glasses who ends up as the protagonist's lab partner in every teen romance movie.