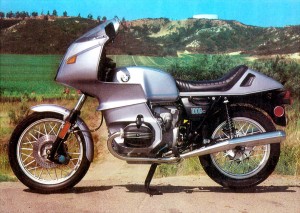 Click image for larger view.
---
1977–92 BMW R100RS
Performance
I'm not dinging the R100 powerplant for not offering superbike performance (even though it sorta was one in the mid '70s). However, airhead engines are quirky to operate, a bit less friendly than a low-power engine should be.
Handling
For being a sophisticated, expensive Grand Touring machine, the RS was a bit deficient in the handling department due to inadequate ground clearance, obvious shaft-jacking and durable but uncooperative suspension parts.
Looks
That fairing is still a jaw-dropper, but the rest of the bike doesn't look nearly as racy nor as sophisticated to me now as it did back when it was BMW's flagship.
Reliability
BMWs last a long time and many miles, but they have their quirks.
Practicality
The RS was the first 'sport touring' bike. Unfortunately, it's too slow and wobbly to be sporty and that cool-looking fairing is too low to provide real protection while touring. The low bars are not ideal with the footpegs, and the seat precludes taking a passenger any distance.
Desirability
I claim to like the bike. What I want is another, better bike with that fairing on it.
Overall
BMW kept trying to end production of the RS, but riders begged for more. I think that says more about their later bikes than about the R100RS.