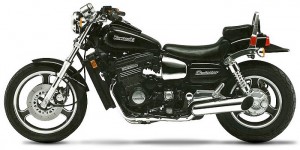 Click image for larger view.
---
1985-86 Kawasaki ZL900 Eliminator
Performance
Built as a dragster, the Eliminator would lose today to any 600cc four-cylinder sportbike. Still, a mid-11-second quarter mile time can't exactly be called pokey, even today. Better yet, the Ninja-900-based motor was re-tuned to sacrifice overall horsepower for a lot more punch in the low end and midrange, and the Eliminator ended up with a very healthy 63 ft-lbs of torque. If the Eliminator motor bores you, you're either a top fuel dragbike pilot or tragically jaded.
Handling
It handles great...unless you like turning. The bike's mission (and styling!) dictated a long wheelbase, big-and-little tire combo and lack of ground clearance. Sadly, straight-line stability is no better than lots of other less radically designed bikes.
Looks
Kawasaki gets lots of credit for a fun, quirky, off-the-map design. Some of the details are a bit cluttered and clumsy, however.
Reliability
The engine can handle repeated, punishing, irresponsible abuse. This is good because most Eliminators were subjected to a lot of stoplight drag racing back in the day.
Practicality
The ergonomics are much worse than they appear, the fuel range barely extends past 100 miles, and at 570 lbs. wet, its not what you could call svelte. In fact, the 900 Eliminator's wheelbase was only about a half-inch shy of the 1200 Gold Wing featured yesterday.
Desirability
The 'Dragstrip Ninja' was unique, strong, and notable (if not quite notorious), but it didn't quite hit the mark. It was, however, successful enough to pass the Eliminator style (if not name) to other models of various displacements, with varying levels of success.
Overall
The 900 Eliminator is one of those bikes that I want to like more than I do. My face always lights up when someone mentions it, but upon more serious consideration, has too many flaws to be truly wantable.