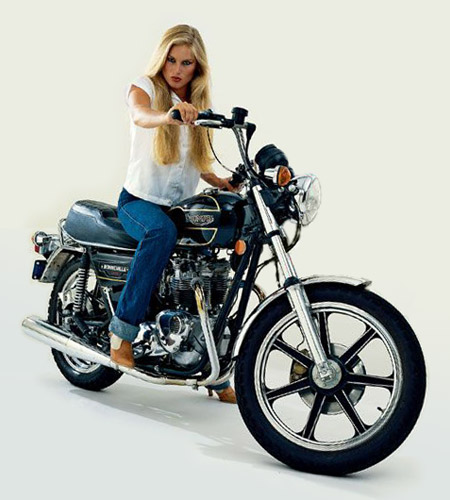 ---
IT'S TRIUMPH WEEK!
Featuring a different Triumph street bike each day.

---
1979 Triumph T140D Bonneville Special
Performance
All Bonnies are nice when they're running properly. With electronic ignition and updated carbs, the 1979s ran better, longer.
Handling
The late oil-in-frame chassis is a great design, but the rubber-mounted handlebars made the otherwise precise handling feel vague and mushy. The suspension parts could have been better, so rough pavement was no fun. The non-folding footpegs and exhaust ate up ground clearance in turns, and the brakes were strong, but too temperamental.
Looks
The Special was designed to compete with the cruiser versions of Japanese UJMs that were selling well at the time. The problem was that Triumph buyers had vicious contempt for Japanese cruisers (and those who bought them). That's a pity, because the Special, with its Lester mags, black-and-gold paint, and 2-into-1 exhaust was actually a very pretty motorcycle. It just didn't look like a traditional Bonnie.
Reliability
Meriden Triumphs are not as bad as they've been made out to be. The metallurgy is actually quite excellent, they just take a bit of careful attention and a through mechanical knowledge to keep running right. Unlike Japanese bikes of the time, you can keep a late Bonnie running well just about forever.
Practicality
For a true classic, the last Meriden Bonnevilles are actually fairly easy to live with.
Desirability
The Special is the one Bonnie model on my bucket list.
Overall
I wanted a Special when I was a senior in high school. I bought a brand-new red '79 Bonneville instead to save $400. I loved that bike, but I've always wondered if I would have enjoyed a Special more.