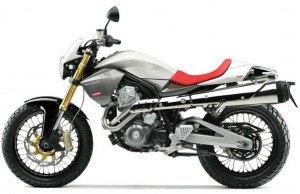 Click image for larger view.
NOTE: The Derbi Mulhacén 659 has never been imported to the United States.
---
2006-2010 Derbi Mulhacén 659
Performance
The 4-valve, fuel-injected Minarelli engine is basically the same as the Yamaha XT660/MT-03, and is one of the more powerful, capable singles out there.
Handling
Somewhat of a mishmash of high-quality components that unfortunately don't come together and work quite as they should.
Looks
Striking and notable without being silly or cartoonish. Minimal, svelte bodywork highlights narrowness of chassis. Too-fat front tire reminds me of Yamaha's goofy TW200, and not in a good way.
Reliability
Looks good on a spec sheet, and no horrible reports from owners that have had theirs a number of years, but can the multinational mix of Piaggio parts and Spanish build quality match those of the big Japanese marques? ...Probably not in the long run.
Practicality
Vibrates a bit, not surprisingly. The upright posture and compact seat are both pluses (in the city) and minusus (on long freeway jaunts). Marked down because this has never imported to the USA.
Desirability
A very cool bike, but from a decidedly un-flashy manufacturer that lacks street cred.
Overall
The big Derbi is not perfect by any means, but keeping the big street thumper alive in the modern bike market is a very good thing.
TOMORROW: Kawasaki EX500