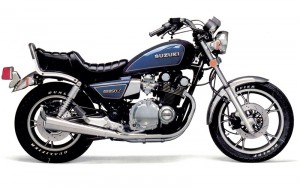 Click image for larger view.
---
IT'S SUZUKI WEEK!
Featuring a different Suzuki street bike each day.
---
1980–83 Suzuki GS850GL
Performance
When the 16-valve version of the GS750 was introduced for 1980, the older 8-valve version was bored out 100cc to create the GS850. It was no longer a superbike, but it posessed gobs of power and utter smoothness. Suzuki made the right call; the design was too young and too competent to be put out to pasture.
Handling
The shaft-drive was well sorted and the cruiser version's extra rake kept things predictable, but it's a big bike that was more tourer than sporter.
Looks
While the styling of UJM-based cruisers is frequently maligned, The 850GL's big, attractive Suzuki mill, restrained lines and nice paintwork elevate this one above the fray.
Reliability
Any bike this age will give you problems due to the dreaded 'rubber rot,' but the metal parts of the GS850 motor can easily go well beyond 100,000 miles without a hitch.
Practicality
Its too old and uncomfortable to eat up the miles it's capable of, unless you do a lot of maintenance up front. And you'll still have those goofy, uncomfortable early-cruiser ergonomics.
Desirability
Yea, I like it, but not enough to own one.
Overall
The GS850GL was perhaps the most robust and competent UJM cruiser. Which is like saying you've got the sweetest brand of pickle.