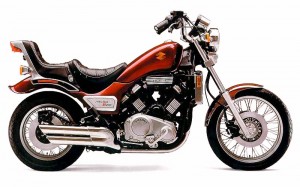 Click image for larger view.
---
1985–86 Suzuki GV1200GL Madura
Performance
Dyno output and drag strip times matched the V65 Sabre, and the engine just as smooth, but the carb response and power curve were not up to par in everyday riding.
Handling
Horrible shaft effect, little ground clearance, wiggly forks. Decent brakes, though.
Looks
Sure to be brought up in any 'ugliest motorcycle' discussion. I frankly don't think it's that much worse than many other Japanese cruisers, but it is graceless, cluttered and incohesive, with some truly wonky details such as the sky-high taillight.
Reliability
The Madura was actually a well-built motorcycle, with many maintenance-friendly features. I'm making the usual deduction for age.
Practicality
Like a '60s musclecar, this is an ungainly bike with more motor than it can handle. And since it was a 2-season sales flop, parts are sure to be scarce.
Desirability
Even if you didn't mind the looks, I can't think of anybody I'd recommend this bike to, except those whose first priority is appearing weird and contrarian.
Overall
Riding a Madura is just baiting people to mock you.