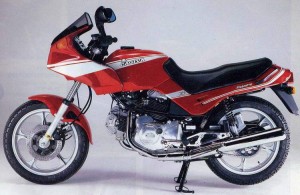 Click image for larger view.
---
1985-1987 Cagiva 650 Alazzurra
Performance
The famous Ducati magic was there, but the seamless rush of past (and future) Ducati engines was marred by poor carburetion and a notchy, balky transmission
Handling
The Pantah-derived frame was up to the task, and it handled like an Italian thoroughbred was expected to, though the ride was way too stiff, and the brakes didn't have much feel or stopping power.
Looks
The more reserved, conservative appearance of the Alazzurra, pared with that gorgeous engine, is actually better than many of the more swoopy Ducati versions. The only negative are the huge handlebar-mounted mirrors. The SS version's ugly lower fairing ruined everything, however.
Reliability
Perhaps more reliable than earlier Ducs, but it was the first model sold after Cagiva's takeover, which was not a high-point for quality control in the marque's history.
Practicality
A mixed bag: the riding position is actually better than most Ducatis, but the seat is lousy and the ride is harsh. Some of the Cagiva-specific parts are becoming scarce.
Desirability
It's pretty, but not sexy. The Cagiva is exactly half way between plow-horse and stallion...not very enviable territory.
Overall
It's what the Yamaha Vision 550 would have been, if it was pretty and Italian.