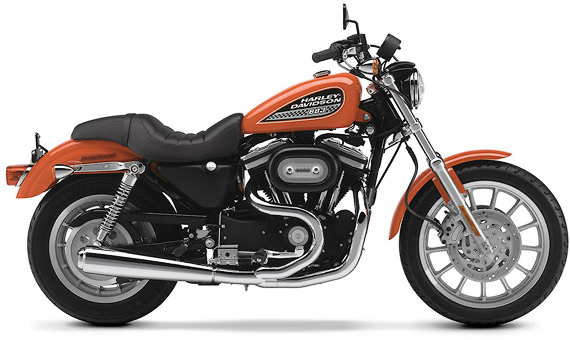 Click image for larger view.
---
2002-03 Harley-Davidson Sportster 883R
Performance
The 883R was no faster than the base-model Sporty, despite the racy looks.
Handling
The suspension spring and damping rates were not well matched. The solid-mount Evo frame offered better ground clearance and steering than many of the Japanese cruisers it competed against, but that's not saying much. Despite triple discs, braking is only average.
Looks
Changes made to the 883R were not drastic, but the bright orange bodywork, matte black engine and unusual 2-into-1 chrome exhaust made the 883R Sportster actually look 'sporty.' Unlike some Sportster models, it aspired to be more than just a scaled-down version of Harley's chopperesque big twins.
Reliability
By the time the 883R came along, Harley had figured out how to produce high quality machines.
Practicality
The 883R's style and size are perfect for short cruises to the local burger stand. Numbing vibration, poor ergonomics and skimpy fuel tank makes it a very poor choice for traveling any farther.
Desirability
The initial generation of 883R (2002-03) unfortunately lacks the fuel injection and rubber-mounted engine of later Sportsters. Sadly, by the time those functional improvements arrived, the 883R had lost its distinctive 2-into-1 exhaust and was nearly indistinguishable from other Sportster models. (Photo of 2007 model 883R)
Overall
The solid-mount 883R is undeniably pretty, but it is caught in limbo between the satisfying functionality of current Sportsters and the old-school street cred of a vintage iron-head Sporty.