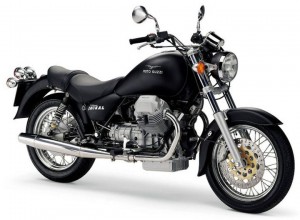 Click image for larger view.
---
1999–2001 Moto-Guzzi V11 Jackal
Performance
This bike begs comparison to the Guzzi Nevada reviewed earlier (see the Archives), and the motor is where the Jackal wins out. Unlike the anemic 750, the 1100 motor pulls willingly enough to remain entertaining, no matter how many miles you put on it.
Handling
The Jackal has the suspension and ground clearance to be considered a sport-tourer with cruiser looks. Torsional rocking and shaft-jacking are noticeable, but not bothersome.
Looks
The Jackal was supposed to make the California retro-tourer into an aggressive boulevard cruiser with the street cred of a Sportster. Looks-wise, they failed. In gloss red it looked liked the stripped-down, budget Cali that it was; in flat black it just looked like an old, ratty Cali.
Reliability
It's a Guzzi, with all the faults and strengths thereof. The Jackal had fuel injection (good), but not the later hydraulic lifters, which means extra maintenance hassles.
Practicality
The Jackal doesn't do anything poorly, but it is not a standout in any area.
Desirability
I like Guzzis, but the Jackal is just a stripped, fat, old-fashioned Guzzi.
Overall
Nice enough, but there are so many better, more exciting Guzzis out there.