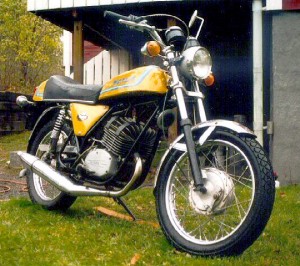 Image from www.varberg.se/~iro
NOTE: The 125 TTS was never sold in North America.
---
1975–76 Monark 125 TTS
Performance
The use of the venerable Sachs 1251-6B 125cc two stroke single differentiates the TTS from Monark's earlier Franco-Morini-powered 125 TS roadbike. This was a heck of an engine at the time, and was sold to a number of different smaller manufacturers who either could not or preferred not to develop their own powerplants, including Penton/KTM, DKW, Hercules, SWM and Zundapp.
Handling
Monark, despite some roadracing successes, built purely utilitarian road bikes.
Looks
It is so conservative and conventional to be generic. But when I was growing up, this is what my mind's eye conceived of when someone said 'motorcycle,' to nearly every detail. So, yea, I like it, even though I prefer the look of a front disk over the TTS's frumpy drum.
Reliability
I'm pulling a fairly generalized, middle-ground guess pretty much out of thin air. I have neither seen a Monark street bike up close, though I have seen Monark dirt bikes, which were sold in the U.S. from 1970–74. Nor have I ever had a chance to talk with any Monark owner. Information on these obscure bikes is almost nonexistent. I know the engine was strong and long-lived; I frankly have no idea about the rest of the bike, but it is simply and conventionally built.
Practicality
The basic bike would get some points, if not for its age and obscurity.
Desirability
I would love to have a Sachs-engined bike, but it wouldn't have to be this one.
Overall
Every so often, I want plain vanilla ice cream, a bowl of plain corn flakes, or a big slice of plain cheese pizza. There is something refreshing about getting back to basics. When I'm in that mood, I'd love to have a 125 TTS to ride.