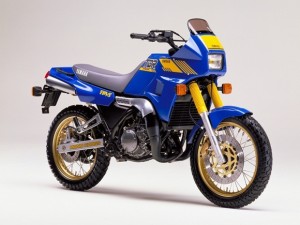 Click image for larger view.
---
IT'S 2-STROKE WEEK!
Featuring a different two-stroke street bike each day.
NOTE: While the Yamaha TDR250 was never sold in the United States, it was a mass-produced, production vehicle that was street legal in those countries in which it was sold, and therefore remains true to the gist of this site. (Though proud to be an American, Tanshanomi considers himself a world citizen.)
---
1988-93 Yamaha TDR250
Performance
The motor is a derivative of Yamaha's giant-killer RD/RZ/TZR two-stroke parallel twins, but with a lower, wider powerband than most versions. With over 49 HP on tap, it transcends its quarter-liter capacity.
Handling
On the road, it corners great due to light weight, limitless ground clearance and light steering, then adds the capability for mild off-roading. The dual-sport tires limit grip a bit in both environments.
Looks
The TDR is unique and more elegantly proportioned better than the description 'dual-sport RZ' would suggest. A half-point off for the dated '80s graphics and colors. Other than that, still a total hottie after all these years.
Reliability
Some of the bodywork is a bit too flimsy for bashing around in the bush, but the proven mechanicals are solid.
Practicality
Practicality in the markets where it was originally sold: 4; in the USA: Zero.
Desirability
If I could, I would own one. The fact that I can't makes want one even more.
Overall
This bike expresses the very core of what Yamaha is at its very best. Nobody else could have made it.