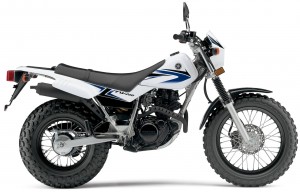 Click image for larger view.
---
1987–2010 Yamaha TW200 Trailway
Performance
The biggest drawback to the otherwise awesome TW200 is its wheezy, underpowered motor. Because of its slow-speed mission, it's geared very low. That allows it keep up with automotive traffic easily enough, but only up to about 45–50 MPH. By 65 it's totally out of steam.
Handling
The big chunky tires work well at the speeds the bike is capable of. On road, they handle unexpected sand or gravel without drama, and off road the TW can pick its way over nearly any terrain, albeit slowly. Any bike that has made it to the North Pole and crossed the Darien Gap can't be too bad. From 2001-on, a decent front brake replaced the horrible, tiny drum on earlier bikes.
Looks
I can't decide if its cool, crazy, frumpy, silly or aggressive. Perhaps it's a bit of all of those.
Reliability
You can eventually wear it out (its built to a price, after all), but you won't break it.
Practicality
If highway speeds are not a requirement, the TW works well enough. For farm folks who need to traverse tarmac along with muddy, boggy farmland, the TW is perhaps the best choice — even over a quad.
Desirability
The TW200 can be a great utility vehicle, but most of us just want one because they're such an intriguing toy. Which really isn't that great of a recommendation — or is it?
Overall
A 2-wheeled Jeep CJ. Now, if only it had a motor as gutsy as the chassis...