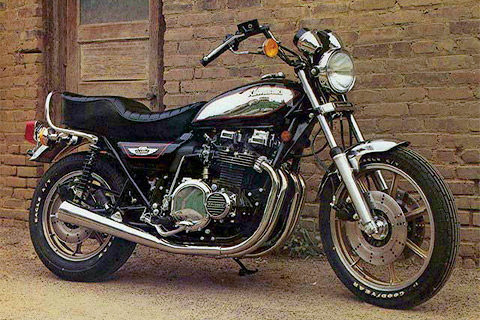 ---
1980 Kawasaki KZ1000G Z-1 Classic
Performance
The Z-1 Classic was the worlds first bike with electronic fuel injection. While fuel metering was crisper and stronger than the wheezing, stumbling EPA-mandated carbs of the era, the Classic was not much different than a standard KZ1000 LTD with a couple of bigger jets. The fuel injection hardware was unsophisticated and bulky.
Handling
By 1980, the handling of Z-bikes had improved over the tank-slapper 900s, but not by a whole lot.
Looks
The chrome tank panels and elaborate winged size cover emblems were suitable for a limited edition: flashy and distinctive, yet tasteful.
Reliability
The basic KZ is bulletproof. Unfortunately, the Classic's fuel injection system components are out of production, prone to fail, hard to diagnose and difficult and expensive to find used.
Practicality
Any other carbureted UJM cruiser of the era (provided it is well maintained and carefully sorted) will perform at least as well as the Classic for less money, with less hassle and greater reliability.
Desirability
It's rare, of some historical note, and the subtle styling differences between it and the standard LTD are attractive. But there's really nothing about it different enough to make it worth the hassle of owning.
Overall
It's not great, but fuel injection had to start somewhere, and this was the first baby steps toward the sophisticated production bikes that use the technology today.