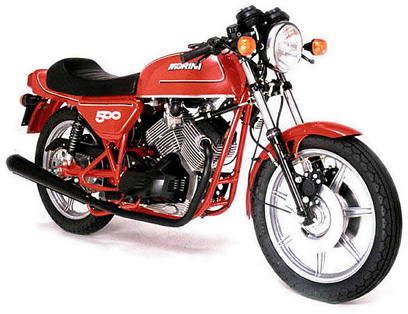 Click on image for larger view.
---
1978–81 Moto Morini 500 Sport
Performance
Though the Morini's Heron-head V-twin is loved for its flexible power curve, it's undeniably slow, even in 500cc guise. Quarter-mile times and horsepower are on a par with classic, air-cooled, single-cylinder thumpers. That's not such a bad thing; it also shares their charming demeanor. The dry clutch is noisy and finicky. Big, pre-emissions carbs make throttle response delightful.
Handling
Back when it was built, everybody raved about the magic cornering of this mid-sized Italian thoroughbred. Even though its lap speeds and specifications pale in comparison to modern bikes, the 500 Sport can still keep today's boy racers thoroughly entertained. Although the frame tubes and tires now seem almost willowy, steering geometry is perfect and it remains predictable enough to inspire a unique confidence when heeled over.
Looks
This is what a motorcycle should look like: elemental, sculptural, elegant, and narrow. It looks especially stunning when painted the factory's quintessentially Italian shade of red. The half-point off is for the rear cylinder's crowded, awkward exhaust plumbing on the left-hand side, as well as some crude finishing here and there.
Reliability
Ummm, no. Spaghetti electrics are the biggest problem, but exhaust valves and cam belts don't last long, either.
Practicality
The footpegs are the same as the Sport's more upright Strada sibling, and are mounted about 12 inches too far forward for the Sport's clip-on handlebars. The suspension is jarringly harsh. Those big carbs suck down the fuel, and there's less than 4 gallons on board. Even when running reliably, Morinis are very maintenance intensive. They require a level of extra attention most owners today would find tiresome.
Desirability
The Morini 500 lives in the shadow of the better-known 3-1/2 Sport, but it's one of my all-time favorite bikes, period. Subsequent models got a six-speed transmission and better electrics, but they also received a less attractive, more bulbous fuel tank and a so-very-'80s bikini fairing that didn't match the bike's character.
Overall
It's good for nothing except going around corners, and it can't even do that as well as many newer bikes, but it remains a sublime experience.