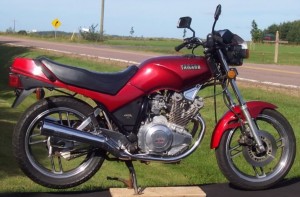 Click image for larger view.
---
1992-83 Yamaha XS400R Seca
Performance
The little Seca 400 could go like stink, but all its power was near the top of the rev range. Thanks to six cogs in the transmission, its narrow powerband wasn't that much of a problem...in fact, it was a lot of fun.
Handling
Great frame, great steering, but let down by slightly wiggly, undersprung forks, mediocre brakes, and 'El Cheapo' monoshock.
Looks
One of my favorite bikes to look at, of any era. This bike got right all that the similar but utterly hideous Yamaha Vision got wrong. The only misstep is the horrible wheels...but those can be swapped out for better Yamaha units.
Reliability
The Seca engine was reliable when new and durable, but the chassis parts corroded easily and wore out quickly. Like other small bikes, any you find today will have been thrashed, abused and neglected.
Practicality
Big 5-1/2 gallon tank, light weight, precise steering, nearly perfect ergonomics, and a true 100 MPH top speed.
Desirability
People always confuse this 2-year model with the older SOHC XS400, which was a total dog; this is the sexy one. I am still hoping to find one in good shape one day.
Overall
If you can't decide if you want a two-stroke twin or a 500 four-stroke thumper, get a Seca 400; it's exactly half-way between the two and as fun as either.